Elaine Victoria Yang has been teaching Reiki since 2012, She has also been a Reiki healer since 2011, and was the principal healer at The Reiki Centre from 2011 – 2015.
Elaine had spent many years in the corporate world as a HR professional, before she found Reiki when she was dealing with stress and health issues, and was seeking a way of healing and balance for herself.
Reiki has helped Elaine not only with her physical ailments, but has also shown her the way to more peace, awareness, and clarity in her life. She is a Reiki Centre Affiliate teacher, and conducts Reiki workshops in both English and Mandarin. She also offers private Reiki healing and Reiki Sound Healing sessions, as well Reiki healing for dogs and cats.
Elaine's work as a healer and teacher is to empower those who come to her. She shines a light where it is needed, so her clients and students see how they can heal themselves, through Reiki and awareness. Elaine opens the door for her clients to gain insight in her healing sessions, and to connect with their authentic self. Her gentle and giving nature and deep empathy for many of the issues her clients face makes her an encouraging and patient Teacher.
Visit Elaine's website: www.reiki-glow.com
Elaine's Upcoming Workshops and Group Sessions:
Location: One Heart, 37 Tembeling Road
Reiki 1 Workshop ($450)

August 26th – 27th, 10 am – 5 pm (Saturday and Sunday)
September 16th – 17th, 10 am – 5 pm (Saturday and Sunday)
October 28th – 29th, 10 am – 5 pm (Saturday and Sunday)
For Elaine's private Reiki workshop schedules (Reiki 1, Reiki 2 and Reiki 3 (English), and Reiki 1 (Mandarin) workshops), please see: http://www.reiki-glow.com/reiki-classes/
Crystal Sound Bath and Reiki Self-care Evenings ($30)
A blissful self-care evening where you combine self-Reiki with a crystal bowl sound bath.
The evening's focus is on self-care. Reiki is first and fundamentally a self-healing modality, and sound has been used for thousands of years as a healing tool in various cultures.
This session brings together Reiki and sound healing, with you doing your Reiki self-treat, while six crystal singing bowls are played in symphony for 45 minutes. The pure and healing vibrations from the sound of the crystal bowls together with the group energy, supports and amplifies your self-treatment, allowing for a much deeper and profound session for yourself.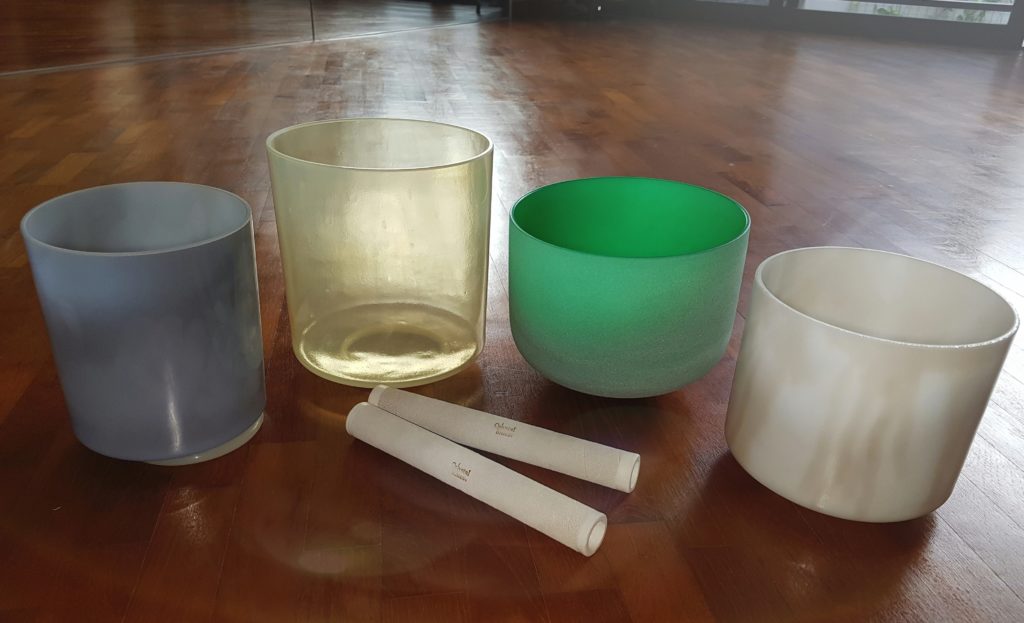 If you are not a Reiki practitioner, but wish to experience having Reiki flow through your hands and give yourself Reiki during the sound bath, you may come 30 min before the event to receive an attunement to Reiki from Elaine.
This attunement will allow you to have Reiki flow through your hands for a few weeks so you get an opportunity to play with the energy, and also give you a more rounded experience for the evening. You may also ask Elaine any questions you may have about Reiki after the event. Please indicate in your registration that you would like to request for an attunement for the session.
*If you are not a Reiki practitioner and only wish to come experience the crystal bowl sound bath, you are welcome to join us.
Next Dates (2nd and 4th Monday of every month):
14th August, 28th August
11th September, 25th September
9th October, 23rd October
Time: 7:30 pm to 8:30 pm
Location: One Heart, 37 Tembeling Road